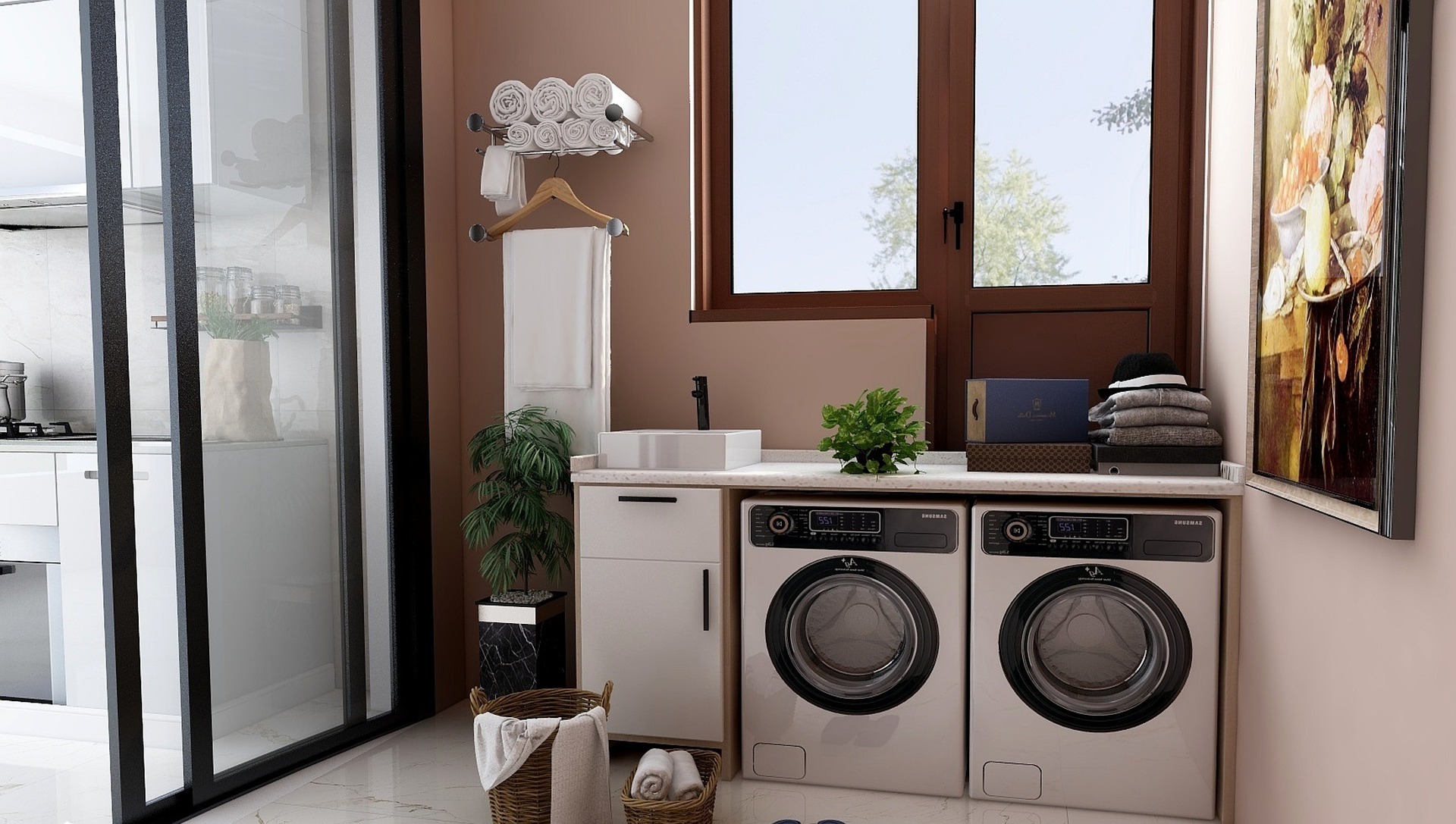 Laundry can feel like an obligation. It can feel like a chore that always has to be done, and more like a never-ending cycle than something positive for our home.
But the key to making the process enjoyable could lie in your laundry room itself. Studies have shown that our environment can have a profound effect on our mental wellbeing. Clutter, mess, and even certain colours can trigger stress-like responses.
Whether we have just a corner of a room, or a dedicated laundry and utility room, we can make the very most of our space. A clean, fresh, and well-organised area can make the difference between a stressful obligation and a smooth and pleasant experience.
Below, we explore some of the must-have items that will instantly upgrade your laundry room. Why not add a few to your collection and see if you start to enjoy the process!
Storage Space
Space comes at a premium these days. With rising house prices and expensive rent, we may not have access to all the space at home that we would like.
That's why it's more important than ever to make the most of the space that we actually have.
Laundry rooms can quickly become cluttered and cramped. But a few intelligent storage solutions can make things fresher, spacious, and more efficient.
Suggested must-have storage solutions are a shelving unit in a size that is appropriate for your room, and a foldable drying rack.
Shelving units can be an affordable way to make the most of space, right up to the ceiling or down at your feet. Open shelves are also great for easy access when you're in a rush. Towels, linen and supplies can all be stored here and are within easy reach.
A drying rack can also be an essential part of the laundry process, and can be used to divide up clothing prior to washing too.
Foldable drying racks are especially handy. Not only do they save space, as they can be folded up and stored away when they are not in use, but they are portable too. They can be used in various rooms, or even out in the garden.
The Product Box
If you are lucky enough to have a purpose-built utility room, you may already have cupboards and cabinets that are a suitable place to store all of your laundry products together.
If you don't have the space for a cupboard or cabinet, a box can work just as well. Stackable boxes can be used for a variety of products, and lids can be kept on so that cleaning products can't be accessed by children.
Keeping laundry products together (and separate from general cleaning products) makes the laundry process run much more quickly and smoothly. We can also see at a glance which products are running out and might need replacing.
Divider Baskets Or Bags
There is nothing worse than arriving in the laundry room with a giant pile of unsorted washing. Going through what is dirty or clean, for the tumble dryer, whites or colours, can be time-consuming and frustrating.
Dividers are the way to go. Baskets or bags can be added around the house and especially in the laundry room to help with the sorting process.
'Dirty' and 'Clean' can be labelled and are the primary concern. But if you find the process helpful, you can extend it to include more specific dividers — such as materials, colours, or tumble-dryer friendly.
Baskets and boxes are especially helpful if we have large amounts of laundry, but bags are excellent if we are short on space and need to store them away between washes.
Accessories And Treats
Never underestimate the importance of fun!
In tough, dull, or repetitive tasks especially, we can make the process better by injecting a sense of fun or personality.
We recommend adding accessories or even treats to the process. Perhaps a beautiful smelling diffuser or air freshener in the laundry room would help it to feel more like a spa experience? Fresh flowers may be an option too, or perhaps even a beautiful set of blinds – like those available from fashionblinds.ie, for example – to help you brighten up the room.
You may even wish to add a jar of sweets to the room, or a radio to pass the time. You can tailor the accessories to suit your personality, what you enjoy, and the space you have available.
Whether you choose to hire a cleaning professional like one of our experienced cleaners, or you are on top of the housework yourself, you can add steps and features that will make the process more enjoyable!