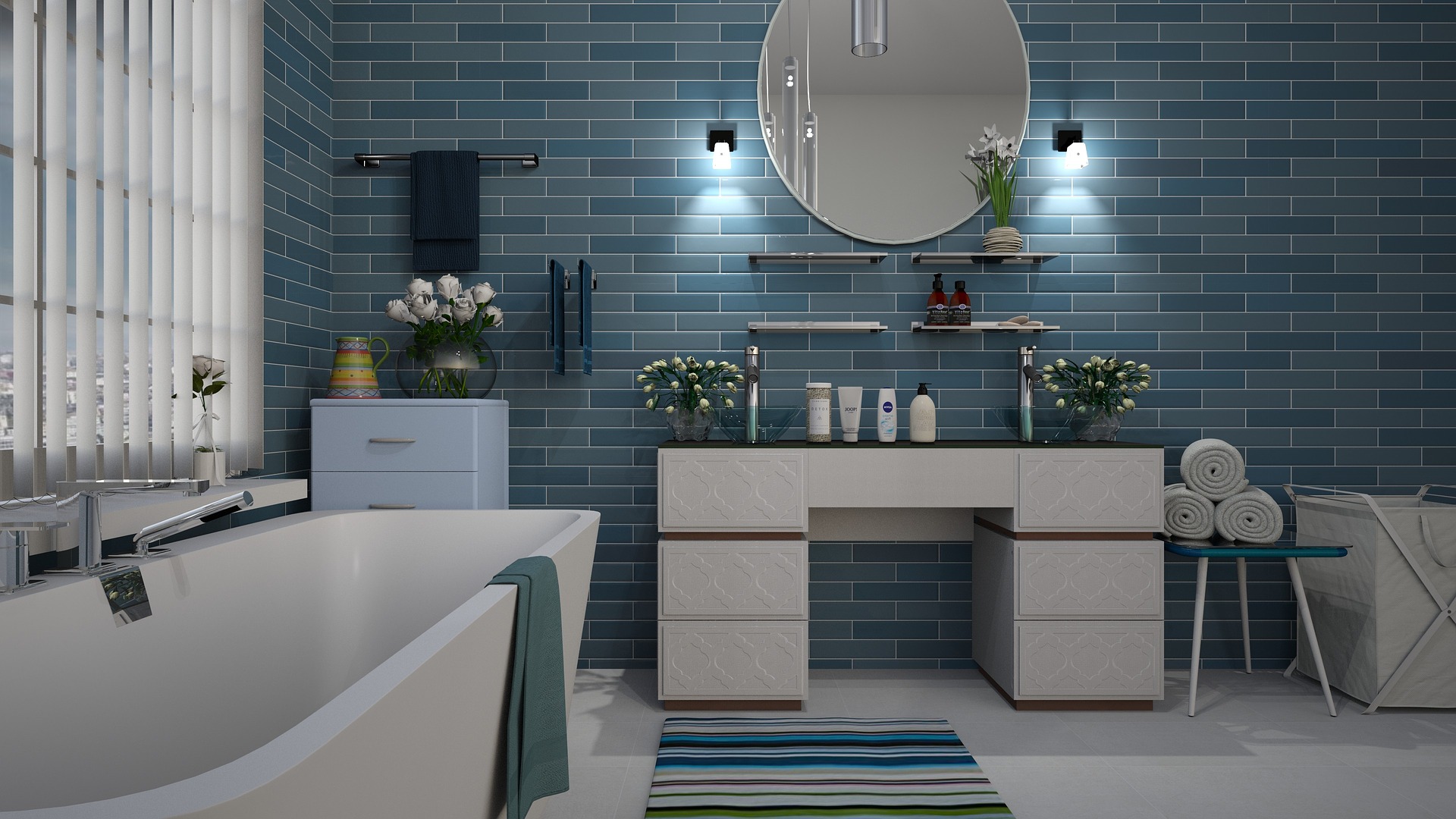 Home renovations can be an exciting process that adds character to our homes. But it can also come at a great cost in terms of expense and upheaval.
Fortunately, there are ways to achieve a similar effect for a fraction of the time and money.
One of the most popular areas to renovate in the home, is the bathroom. As daily use produces substantial levels of steam and moisture, bathrooms can be quick to show their age. Keeping them in great condition is best achieved with regular cleaning, but there are some small and effective upgrades you can easily use to make your bathroom look brilliant.
Read on to discover how to overhaul your bathroom with just a few simple touches!
Pay Attention To The Details
Home renovations can be overwhelming if we only focus on the bigger picture, whereas a surprising way to achieve maximum impact with minimum effort is to focus on the details.
In the bathroom, this can mean things like fixtures and accessories, such as mirrors, which can be quick to show dirt, grime, and fingerprints. Regular cleaning of these areas with the appropriate products will instantly help to make the room look fresh and immaculate.
Taps, plugs, and cabinet door handles may not take up much space, but it is remarkable how they catch the eye. Keeping them polished makes a huge difference, but if you are still not satisfied, why not upgrade them completely? New fixtures can make the whole room look fresher — especially as these areas are the fastest to show wear and tear.
And if you're really looking to upgrade your bathroom space to make it a beautiful place to relax and unwind in, you may wish to consider fitting it out with fine materials such as marble, porcelain, or quartz. This can be a big undertaking, but specialist contractors such as Artistic Stone can help with bringing your project from idea to completion.
For a final detailed touch, add some personality with accessories. This could be ornaments or pieces of artwork (which are durable enough to withstand steam, of course), or a rug in your favourite shade.
Use Good Quality Cleaning Products
Cleaning is essential for keeping our bathrooms in tip-top shape. But even if you are putting in the time, the effects will not be as good if the products aren't suitable.
A quick way to instantly upgrade your bathroom, is to invest in good quality cleaning products. The best ones can minimise the amount of time we spend cleaning, may have a scent we love, or simply be ultra-convenient.
To achieve the best results and the greatest longevity, you may also want to consider using a professional cleaning service. This will help to ensure that your bathroom and its fixtures stay as spotless as the day you bought them!
Go Green!
You may have noticed the interior design trend for greenery in the home, especially on social media sites like Pinterest and Instagram.
While plants have always been popular in the home, this is being taken to new heights by using larger plants, having more of them, and placing them in unexpected places — like the bathroom!
You may choose to limit your selection to a single plant that is suitable for steamy, damp conditions, or you may go for maximum impact. Hanging baskets from the ceiling, putting larger pot plants on surfaces, or even placing fresh herbs on the shower head have all become things which houseproud people tend to do.
Whether you go for a bold statement or a subtle twist, adding greenery can bring life and vibrancy to your bathroom. It will also help to purify the air of any chemicals.
Ensure Adequate Ventilation
Damp and moisture can be an issue in bathrooms for obvious reasons, so effective ventilation is key.
Keeping the room dry and well-ventilated helps to retain the longevity of your fixtures, walls, and fabrics. It also helps to ensure that any odours or dampness are safely carried away.
By addressing the ventilation, you can instantly help your bathroom to feel fresher. You may wish to do this by using a fan or a dehumidifier, but even just getting into the habit of opening the bathroom windows or doors to let the moisture out can make a huge difference.
Select The Perfect Scents
In the bathroom especially, scent can be transformative. We can select a scent to match our mood, whether we want to feel tranquil and peaceful, or energised and refreshed.
Citrus scents have been shown to boost mood and stimulate feelings of optimism, for example, whereas herbal or botanical scents like lavender and camomile are trusted for their soothing properties. We can choose to add scents through a variety of options, whether through our cleaning products, a fragrant spray, or a diffuser.
Scented candles are also a popular option as they make great ornaments too!
Scent can instantly transport us back to a fond memory, or a treasured place. It is also one of the most overlooked details that adds personality to the home, so be sure to use attractive smells to put the finishing touches to your bathroom updates.
Renovating and redecorating your home can make your living space a far more enjoyable place to be, but these improvements often take a lot of time and effort to achieve. Carrying out some simple cosmetic adjustments to your bathroom, however, can have an amazing effect for far less work.
These quick and easy suggestions for improving your bathroom interiors will help make your home a cleaner, nicer, more pleasant place to be, with a minimum of fuss!