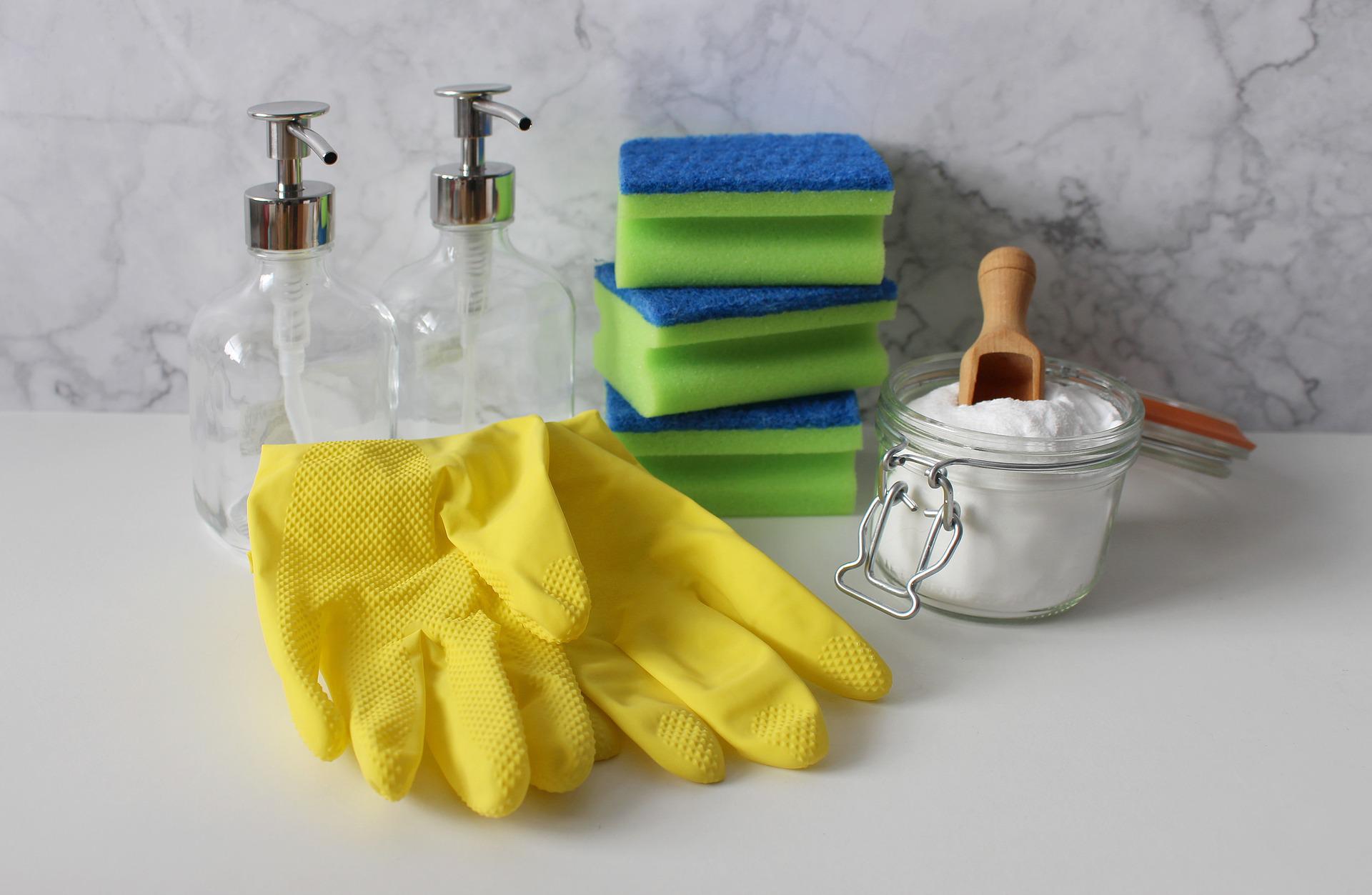 We all have our own cleaning style. But whether you are a meticulous perfectionist or laidback and loving it, your kit is essential.
An effective cleaning kit can make difficult jobs simple to complete and will produce the best results. Using the appropriate cleaning tools can also be key to the longevity of furniture, appliances, and upholstery. So be sure to check the labels of every cleaning product you use, to ensure that it is suitable for the task at hand.
With all this in mind, read on to discover our top ten picks for what a perfect cleaning kit should contain.
1) Disinfectant Wipes
Handy disinfectant wipes are perfect for a busy household. Keeping countertops clean and clear instantly improves the look of a room — and it's more hygienic too!
However, be aware that for more severe messes you will need harsher detergents, and for serious issues you will be best served by bringing in experts.
For example, if your home requires a deep clean, it's best to consult a professional cleaner, while if your property has fallen victim to an infestation of bugs or other pests, it's highly recommended that you contact a pest control specialist – like skilltermite.com, for example.
2) An All-Purpose Cleaning Fluid
A good all-purpose cleaning fluid is a great choice when you don't need to use specialised solutions to protect furniture finishes or natural wood, for example. Plus, if the fluid is gentle and effective, it can be used with a soft cloth for great results on a variety of surfaces.
For added convenience, a spray bottle can be used to apply liquids directly onto surfaces, which can then be wiped down.
3) Rubber Gloves
The chemicals we use to clean will be safe for surfaces but may be unsuitable for sustained contact with the skin. This means it's important to protect your hands, arms, and other areas while cleaning! And if you have sensitive skin, it can be especially crucial.
Rubber gloves are protective, hygienic, and easy to obtain; having a pair for kitchen and living area tasks – and a separate pair for bathroom cleaning – is ideal.
4) Toilet Cleaner
A suitable toilet cleaner is an obvious essential, but why not select one with added benefits? Some also combat limescale, for example, or have a great aroma that fragrances the whole bathroom.
It's an essential purchase, so why not add a little luxury?
5) Cleaning Cloths
Cleaning cloths have a great variety of uses. They also come in a wide range of materials depending on whether you are using them as dusters, wipes, or for polishing surfaces. Microfibre cloths are perfect for fixtures and metallic finishes, for example, while looser materials are better for washing dishes.
Purchasing a variety of cleaning cloths in bulk or multipacks can be the most cost-effective option. It also means they can be replaced often so that dirt and bacteria don't build up inside them. Some are washable and reusable too!
6) Heavy Duty Paper Towels
Cleaning and polishing can often leave surfaces with a slightly sticky residue. Heavy-duty paper towels are not only great for spillages, they also provide a great finishing touch after cleaning!
7) Scrubbing Brushes
Scrubbing is often the best bet for removing stains and grime, and for giving surfaces that all-important final shine.
Scrubbing brushes and scrubbing sponges come in a range of shapes and sizes; some also have easy to grip or extendable handles. They are especially important for kitchen and bathroom tasks and are often very durable.
You can use these handy tools to make quick work of tough jobs!
8) A Glass And Mirror Cleaning Solution
All-purpose cleaners and sprays are often not suitable for high-shine surfaces like glass and mirrors as they can streak, smudge, or leave a cloudy appearance.
However, a convenient spray solution for glass and mirrors will make cleaning them a breeze. Mirrors and glass often seem like a magnet for thumb and fingerprints, but the correct cleaning fluid and a soft cloth will be the answer to this problem.
9) A Feather Duster
You may think feather dusters were confined to the 1950s, but they remain a handy tool! They are perfect for those hard to reach places that become dusty – such as on the tops of door frames or behind radiators.
They don't always have to be the flamboyant pink numbers either. Some modern dusters are decidedly chic!
10) An Air Freshener
For a final finishing touch, a spray of air freshener will instantly refresh your home!
And that completes our list of the ten cleaning tools you need to have in your perfect cleaning kit. By ensuring you have all these essential items close to hand while cleaning, you can make your cleaning process, easier, faster, and more effective!